There are 210,000 Unnecessary Deaths in Hospitals Each Year
Nurses – Are You Tired of Feeling Powerless
to Effect Real Change in the Profession You Love?
Listen to this empowering message from author and editor, Lorie A. Brown, RN, MN, JD.

INTRODUCING
"From Frustrated to Fulfilled:
The Empowered Nurses' System"
This book chronicles the journey of 11 nurses who loved their profession but realized that something was not quite right with nursing. They found a way to rise above the problems in nursing and create a meaningful and fulfilling life for themselves. They share the tools that worked for them so you can add them to your toolbox.
You'll discover: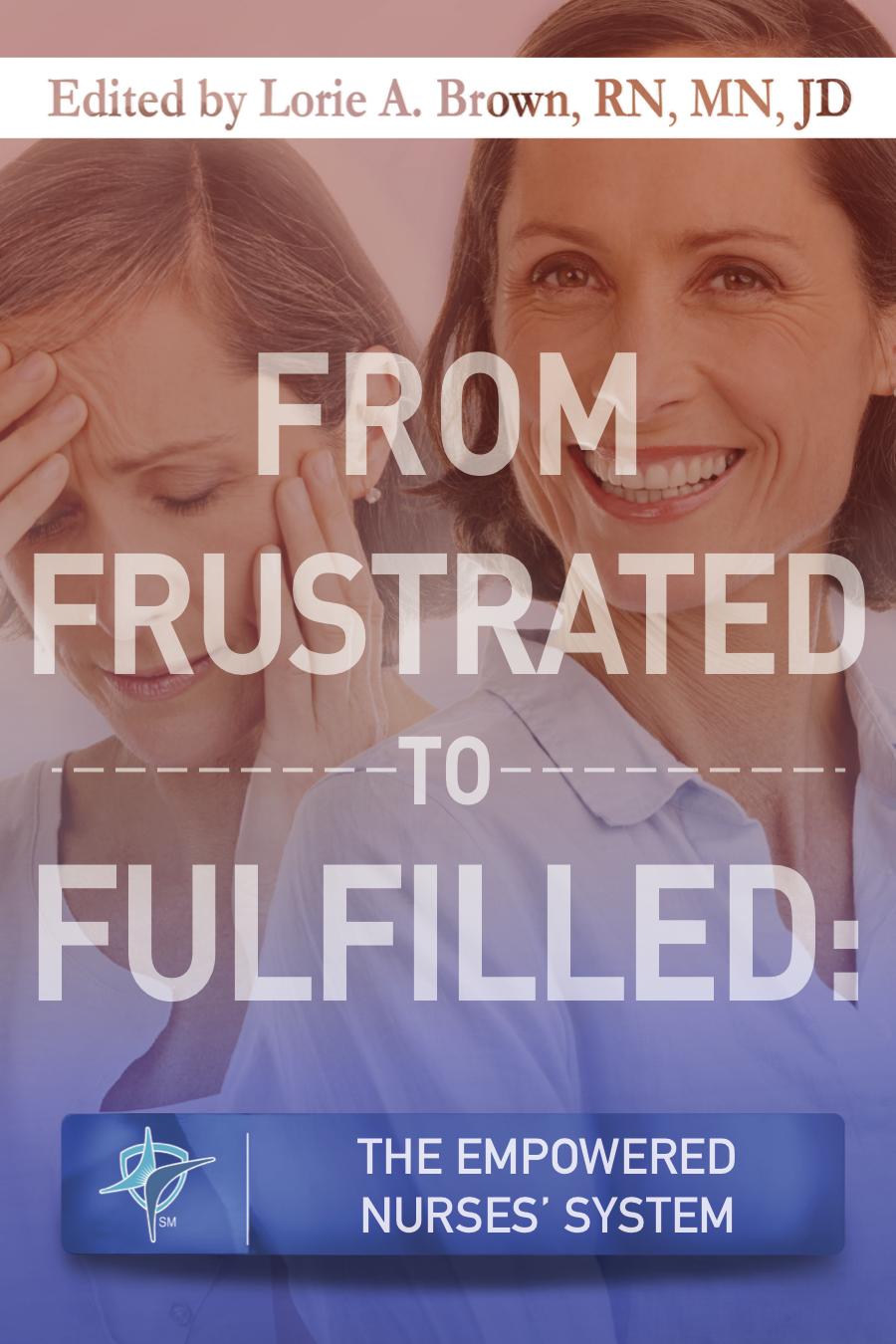 How to use your GIFTS™ as the foundation for creating a nursing environment you love.
How to communicate successfully to get the support you need.
How to develop the leadership skills you need to positively impact your unit.
How to speak your mind and stand in your power to make the change necessary to improve patient care.
And so much more!
Becoming an empowered nurse begins with you. Take the first step by getting the tools you need to create a meaningful purpose in both your career and your personal life. Order your own copy of "From Frustrated to Fulfilled: The Empowered Nurses' System" today or fill in the request for a free sample chapter

Book Review-"From Frustrated to Fulfilled: The Empowered Nurses' System"

Fall in love with nursing again by reading Lorie Brown and her coauthors' new book, "From Frustrated to Fulfilled". Just like 10 year old Lorie felt when she met her first nurse role model at summer camp; I felt safe, comforted and inspired reading this book. Lorie skillfully weaves stories here for nurses; walking us through the shimmering novice veil where we view only the highest ideals of nursing into the sometimes harsh but more sad, realities of conventional nursing.

The nurse contributors that shared stories for Lorie's book did an outstanding job of conveying frustrations, feeling pain and then digging deep coming out winners in their unique nursing careers. These stories will resonate with nurses and with what many nurses have encountered.

Disillusionment could give way to despair but not in this book and not with this group of nurses! Lorie eloquently outlines the GIFTS that nurses can use and then hits the ball out of the park with The Empowered Nurses Bill of Rights . "From Frustrated to Fulfilled" empathizes, shares, inspires and educates nurses on self-empowering examples, methods and tools. This book made me smile, get upset, tear-up and feel such joy in being part of the nursing profession. It will definitely be a book that I will read again!

Michelle D. Podlesni RN
President ~National Nurses in Business Association
www.nnbanow.com
Author & Founder: Unconventional Nurse®