Patient Rapes Nurse At Gunpoint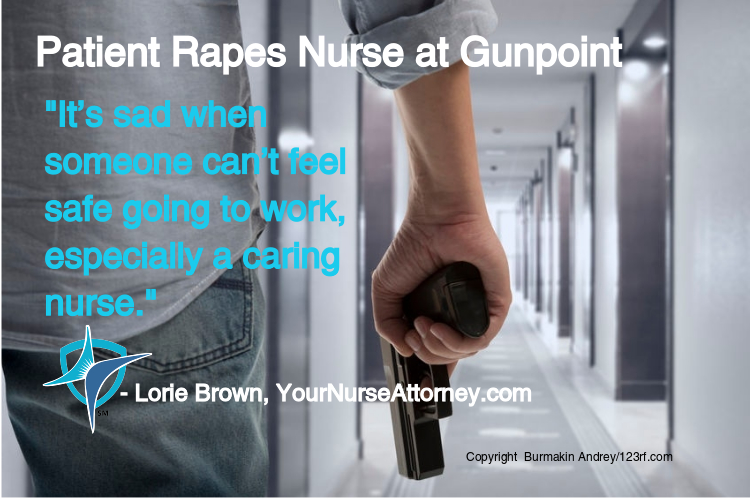 On May 13, 2017, an inmate at the Kane County Jail in Illinois was taken to Delnor Hospital after he ate a jail-issued plastic sandal and drank a liquid cleaner.  He had surgery to remove the plastic and liquid from his stomach and was recovering when the guard left him unshackled after the inmate had used the restroom.
After being unsecured for about a half hour, the inmate grabbed the gun of the officer who then ran down the hall and hid in a room.  The inmate then went to a nearby office where he took a nurse hostage.  He forced her to remove her clothes and then physically and verbally abused her.
When a second nurse entered the office, the inmate took her hostage, leaving the first nurse behind.  The nurse and her captor then proceeded down an elevator to a decontamination room where he forced his hostage to remove her clothes, verbally and physically threatened her and then beat, tortured and ultimately raped her.  The attack lasted up to 3 hours while negotiations were underway and during which time the inmate continued his assault.  At one time, told the nurse that if she cried, they, "Both would be in body bags."
A SWAT team managed to eventually enter the area where the inmate was holding the nurse hostage.  When the inmate shot at one of the officers, another returned fire, killing him.  That bullet also grazed the nurse's arm.
More disturbing was the fact that, following the attack, the hospital stated that the nurse "was unharmed."  The hospital had tried to cover up the matter and it was not until the nurses filed their lawsuit that the truth could come to light.  This is the second case I know of where the truth comes to light only when attorneys share information.
It is unspeakable that such an assault could happen to 2 nurses in a busy hospital.  Nurses should not have to stake their lives to carry out their duties at work.
I know that there are a number of initiatives to stop healthcare violence but, frankly, I am disturbed by this event and shocked that the corrections officer failed to do his job.
It's sad when someone can't feel safe going to work, especially a caring nurse.