Resources for Legal Nurse Consultants
Below you'll find resources and coaching programs by Nurse Attorney, Lorie Brown, that have empowered LNCs like you to create successful practices for themselves.
This Coaching Intensive with Lorie is designed to catapult your business to the next level. You'll be given the tools, strategies, and support you need to propel you to more cases and more profits.
This program includes 6 videos and 1 bonus video that covers the areas in your practice where you are struggling to get traction. These dynamic and interactive sessions will answer your questions and give you a step-by-step system that you can implement right away.
Meet with Lorie in-person and engage in a transformative makeover of your LNC business. She's going to coach you into experiencing a new, more profitable way of approaching your business that you will begin implementing immediately.
Lorie generally hosts these retreats once or twice a year. The intimate nature of this retreat means if you're one of the 8 who will get to join her, you're going to get 100% of her attention to your success. The results experienced by previous participants speak for themselves.
Learn the formula to write a rock solid report to give your attorney clients exactly what they want. In this recorded video conference, Lorie shares provides clarity on exactly how to write a rock solid report so your attorney clients will love it.
If you are a Legal Nurse Consultant or are wanting to become one, YOU DON'T WANT TO MISS THIS! Lorie Brown, R.N., M.N., J.D., Empowered Nurse Entrepreneurs interviews a panel of distinguished attorneys that share real-life experiences working with LNCs and what they really look for in contracting with LNCs.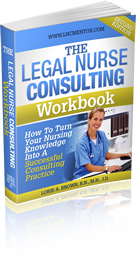 This Workbook was designed to help Legal Nurse Consultants grow their business. Lorie, a LNC since 1999, learned through triumphs and failures how to market to attorneys and get more cases and she shares what she has learned.
Marketing to attorneys can be difficult and most of the traditional marketing techniques will not work, this book will give you the tools and techniques that work.
Learn key areas to a successful practice:
The Mindset of Success
Needs-Based Marketing
The Ask/Overcoming Objections
Where to Look for Clients
Creating Effective Marketing Materials
Marketing Dos and Don'ts
Fees, Contracts and Billing
And much more!
Available Now for only $37.99
Get your copy of the Legal Nurse Consulting Workbook today
This 'step-by-step' system removes all the guesswork from growing your legal nurse consulting business, even if you are just starting out. These are audios from a previous coaching intensive class.
Stop struggling and use Lorie's secret proprietary system for getting more cases, making more money, and saving yourself tons of time and frustration!
Get started and get more cases today
In this previously recorded live event, Lorie reveals every secret, revelation and powerful principle she learned and practiced throughout running a successful six-figure LNC practice.
This program will revolutionize how you market your business and allow you to obtain phenomenal results.