Can A Nurse be Called A Doctor?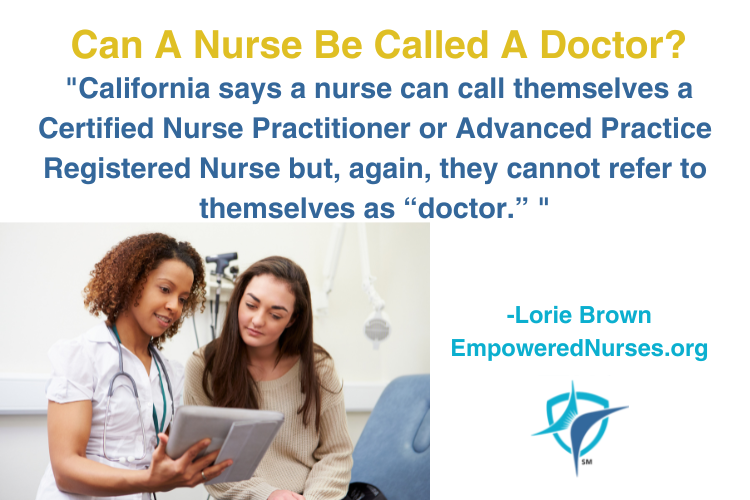 A doctorly prepared nurse practitioner, Sarah Anne Erny of Arroyo Grande, California, has been fined for publicly referring to herself as "Doctor Sarah" or "Doctor Erny" in contradiction to that state's laws.
Now, to be sure, there are many doctorly prepared professions in which a person may call themselves "doctor."  For example, look at the First Lady who earned a Doctor of Education degree and asks to be publicly referred to as Dr. Jill Biden.
The title is also allowed for other doctorate-based career professionals such as pharmacists, psychologists, naturopaths, physical therapists, acupuncturists, or optometrists who all put the title "doctor" before their name.
However, in Ms. Erny's case, the Board felt that she misrepresented herself by addressing herself as a doctor.  In fact, she lost her case before the Board and since California requires the defendant to pay the cost of the investigation as well as face possible civil penalties, she now must pay $20,000. From that, she must pay $16,000 no later than 30 days of the final judgment (whoosh, that is harsh!)  And the remainder is to be paid no later than 90 days.
If you have a Doctor of Nursing Practice degree (DNP) in a state other than California, don't get worried.  Apparently, the Board in Ms. Erny's case relied on California's Business and Professional Code which allows only a few select professionals to call themselves doctors.  Other states have their own restrictions and allowances.
Indeed, California says a nurse can call themselves a Certified Nurse Practitioner or Advanced Practice Registered Nurse but, again, they cannot refer to themselves as "doctor."
This is a very disappointing opinion because as NPs are establishing themselves as the leaders in primary care and they have a doctorate degree they should be allowed to use the title of doctor.  One can say I am Dr. X, an advanced nurse practitioner but not in California.
To me, it makes more sense for a DNP to be addressed as "doctor" than, say, a person with a Doctor of Economics or even a Doctor of Education degree.
I hope California will see the light and change their statute,