How Many?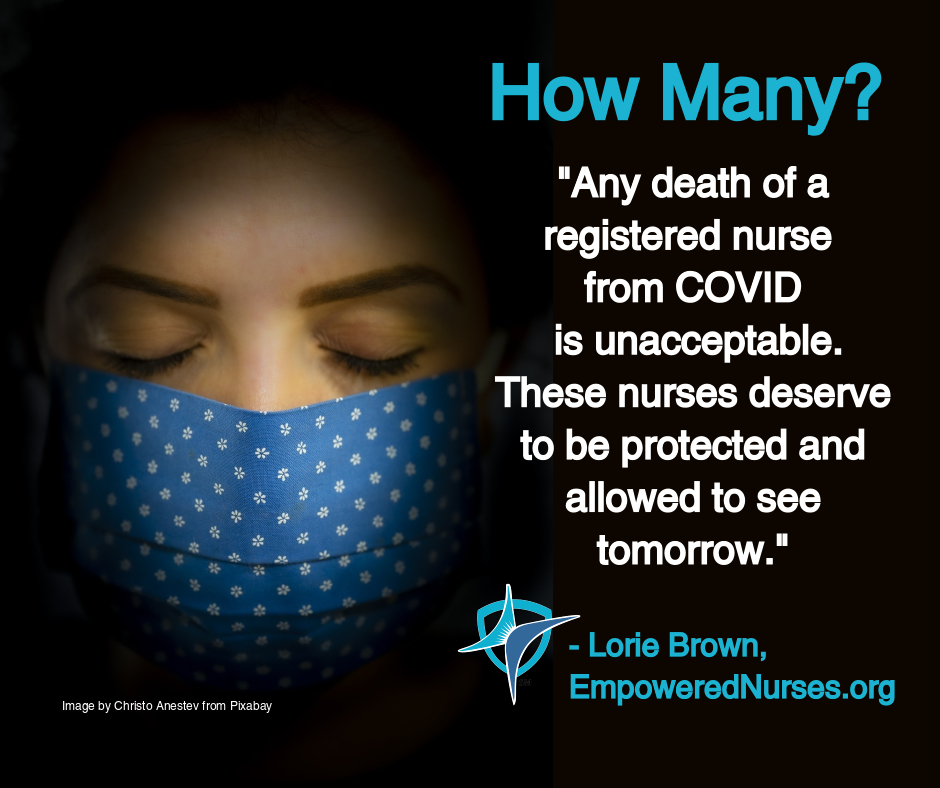 In this international pandemic, can we fathom how many of our professional sisters and brothers we are going to lose?
I am appalled at hospitals which are requiring nurses to work without personal protective equipment (PPE).  Prior to this outbreak, the CDC regulatory requirement was for a healthcare provider to wear an N95 mask which would be disposed every time the wearer left the patient's room or treatment area and, if they needed to return, be required to don a new N95.
NOTHING HAS CHANGED!  Therefore, the CDC guidelines should be enforced as stated and not be adjusted.
Maybe one thing has changed and that is "Where are all the masks?"  We are not a third world country and we should have plenty of masks being manufactured to bolster a stockpile.
Allowing a nurse to enter a COVID positive patient's room without a mask is totally unacceptable.  Yet, that is what is happening.  Click here.
Some deflectors say that our nurses signed up for this and took an oath.  That is not true.  Nurses do not take an oath and nurses do not sign up to put their lives on the line though, indeed, throughout history there are many incidences of those who did.  Nurses signed up to care for others while protecting themselves.  Should they not protect themselves, especially in this time, they eventually will be able to protect no one.
One would not expect a fireman to enter a burning building without proper protection to fight the blaze.  It would not be reasonable to expect a soldier to go into battle without proper protection and weapons.  Yet today's nurses are often asked to forego PPE on this medical front line.
Some nurses are being fired for wearing their own masks, refusing to take care of COVID positive patients without a mask and other reasons involving PPE.  Unacceptable.  That's the only word for it: unacceptable.
What is worse is considering how many healthcare professionals are we going to lose in this situation.  According a recent article from the Center for Health Workforce Studies at the University of Washington, it is anticipated that the death rate for registered nurses will be between 6,809 to 19,125.  Any death of a registered nurse from Covid is unacceptable.  These nurses deserve to be protected and allowed to see tomorrow.  When they become infected, they can infect their community, family and friends.
Another article recently showed that at a Detroit hospital system there were 700 healthcare workers who tested positive for the coronavirus.  Is this test like MRSA where one may be a carrier while not showing any symptoms?
Yet another publication showed that healthcare providers from 15 hospitals in one area were going to walk out in demand of PPE.
Nurses!  We need you!
PLEASE keep speaking up, don't put yourself in jeopardy.  What is your health care system doing to keep you safe?  Please comment below.