Nurse involved in George Floyd type case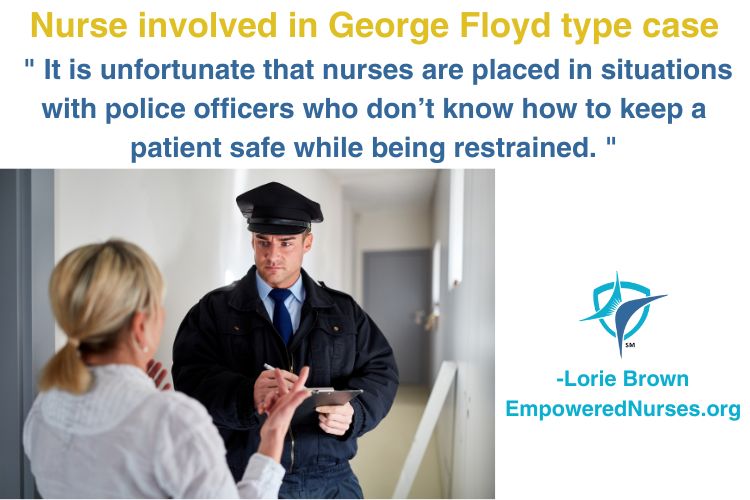 Criminal charges against nurses just keep on coming.  It's a devastating trend and, in 2020, a nurse and 7 California Highway Patrol officers (CHP) were charged with involuntary manslaughter and assault in the death of a man who had been court ordered to have his blood drawn.
I'm not sure why it took so long for this particular case to get filed but Edward Bronstein age 39 was arrested for driving under the influence and taken to the police station in Altadena where he refused to allow a blood draw.  His family members said that Bronstein had an intense fear of needles.   
The matter was then presented before a judge who issued a warrant ordering Mr. Bronstein's blood to be drawn by a nurse.
Despite the order, he again refused to have his blood drawn whereupon the CHP officers took him to the ground to restrain him.  During that effort Mr. Bronstein tried to tell the officers that he was unable to breathe and, as a video of the encounter showed, he then acquiesced saying he would comply with the blood draw.
However, the officers did not release the restraints.  The video showed that 6 minutes after his last attempt to say he could not breathe, his body went limp, and he was "completely lifeless."  Court documents showed it was yet an additional 7 minutes before CPR was started but the reason for that delay was not explained.
The officers were charged and, for reasons I have yet to learn, R.N. Arbi Baghalian was also charged with involuntary manslaughter.  My concern regarding the nurse would be the extraordinary delay in starting CPR.  Who would have thought that by doing their job, although it may have been negligent, they would be subjected to criminal charges?
The police need to respect and immediately relax restraints on any person who says they cannot breathe.  There are ways to restrain somebody without compromising their ability to breathe.
It is time to stop criminally charging nurses in situations like this.  Nurse Baghalian was there only to draw the blood.  
It is unfortunate that nurses are placed in situations with police officers who don't know how to keep a patient safe while being restrained.  Such circumstances, as in the death of Mr. Bronstein, can result in a nurse becoming involved and winding up with criminal charges, as it is with Nurse Baghalian.