Support For Nurses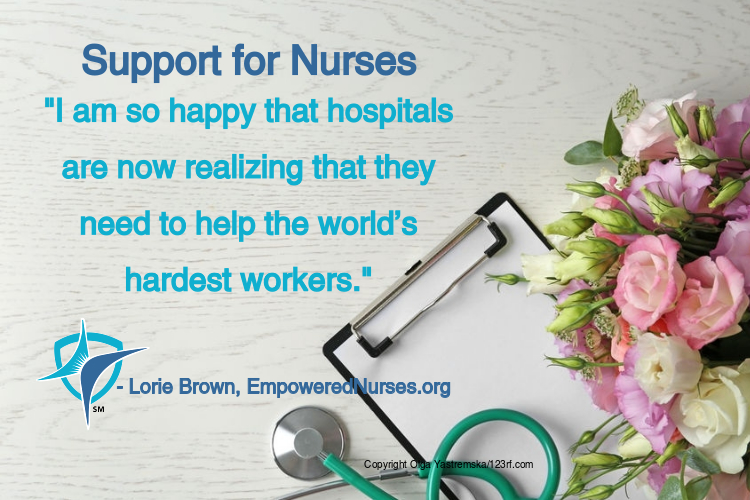 2020 has been a difficult year for nurses.  I was thrilled to read a great article in my hometown magazine, the San Diego Magazine titled "5 Ways Local Hospitals Support Their Frontline Workers: The Programs That Help Care for the Caregivers."
I am so happy that hospitals are now realizing that they need to help the world's hardest workers.  They put in 12-hour shifts, suit up in protective gear, battle infectious diseases, comfort families facing loss and can't even visit their love ones, they face death and go home physically and mentally exhausted.
But … nurses go to work everyday with a smile on their faces even when the pandemic has shut down much of the world.
Some initiatives that these hospitals provide include access to emotional support programs, implementing robust telehealth systems, allowing staff flexibility working remotely and allowing patients to access care from home.
I'm not really sure this is as much for nurses as it is for physicians and nurse practitioners, but I am glad that they are recognizing these workarounds to help staff.
Another initiative is to prevent workplace violence.  Mary Prehoden, a nursing supervisor at Scripps Mercy Hospital in San Diego, was viscously attacked by a patient in 2018.  Violence against nurses has continued to rise over the past several years and due to many of societal issues such as untreated or undertreated mental illness, drugs, and alcohol, I think this number has probably increased during this difficult time.
What nurses have to endure, such as punching, kicking, biting, spitting, and using medical equipment at hand against the nurse is just brutal.  Obviously, this takes a physical toll but also the mental aftereffects and PTSD from this can be life changing and career ending.
Scripps has made some headway in early identification of patients at risk for violence.  They have visual cues outside patient rooms and armbands to help educate the staff.  There also is a rapid response team and security to intervene to de-escalate the situation.
Unfortunately, there is no magic answer to this problem.  Healthcare facilities can only share best practices to keep their staffs safe.
UC San Diego noted that female nurses die by suicide 58% more often than in the general female population while that number for the male population is 41% more often.  UCSD created the Healer Education Assessment and Referral ("HEAR") which is a simple, anonymous online screening to help identify healthcare professionals in crisis.
By raising awareness and reducing the stigma associated with getting help, nurses can get help when they need it.
In another program at Sharp Healthcare is a new graduate nurse residency program to provide a flexible supportive environment to help nurses to build confidence and thrive in their new roles.  After an event occurs, they are provided a trained peer supporter to debrief and help the nurse's transition to a new role.  The philosophy is "let's erase the nurses-eat-their-young stigma."
Brady Children's Hospital provides a program called Compassioned Peace and Renewal ("CPR") for the soul; a program designed for nurses working with children with life-threatening illnesses.  I think this is a wonderful initiative.  However, it should be for all nurses, not just pediatric nurses.
In the summer between my son's 6th and 7th grade, one of his classmates died in a car accident.  When my son returned classes, the school had chaplains, social workers, and counselors available to help the children to deal with their feelings during that difficult time.
Nurses are asked to deal with difficult situations every day yet they do not get the support they need or even the time off to grieve and work through their emotions related to such incidents.  Nurses are taught to just stuff it down and move on because there is work to be done.
What initiatives do your healthcare institutions have in place to help nurses during these difficult times and situations?  I'd love to hear in the comments below.