Tik Tok Nurses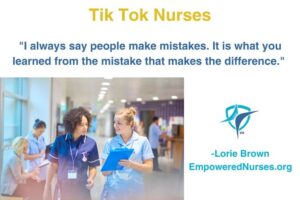 Four (4) nurses in the labor and delivery unit of Emory University Hospital Midtown recently lost their jobs because they posted an "ICK" video on TIK TOK. An ICK video is a trend where people complain about things they find icky. The quartet made the ICK video to complain about patients.
Unfortunately, the administration of the Atlanta hospital learned about the posting and promptly terminated the nurses involved. Though their recording complaining was in general and did not mention any specific patients, it was, nevertheless, unprofessional to create and post such a video. What if one of their patient's heard this and was like "I did that." They would feel awful.
Anything you put on social media puts you under a microscope. Posting the wrong thing can get you in deep trouble. If your employer discovers what you posted is in violation of their core values or a nurses' ethics or professionalism, they will take action.
I am not sure how a facility can afford to lose 4 labor and delivery nurses in this day and time. However, that's what happened in this case. Similarly, I wonder what they will tell their future employers and whether the Board will get involved in this specific case.
Just because it seems to be a craze to post an ICK video on TIK TOK (or any social media) does not mean that you must jump into madness as well. Use your common sense.
Though we nurses are human, we make mistakes like everyone else. I hope their Board and their future employers will be forgiving of their improper actions. Most importantly is that they hopefully have learned from this mistake.
People make mistakes, it is what you learned from the mistake that makes the difference.
I recommend that you post absolutely nothing anywhere about your work or anything personal that can be perceived as unbecoming for a nurse.