19 Years In A Row!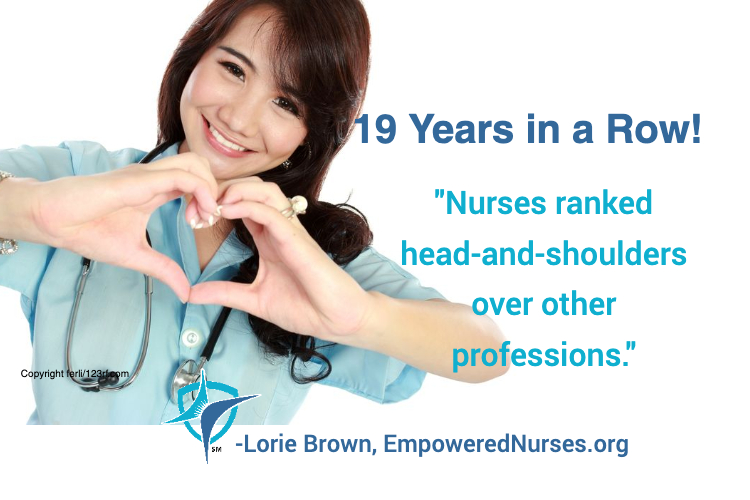 Sometimes broken records are good!  Nurses are again in the spotlight for the 19th consecutive year, based on the results of a 2020 Gallup Poll as they are rated the most ethical profession.  Eighty-nine percent (89%) of Americans rated nurses very high or high.  That is even higher than the previous two annual polls which, of course is due to nurses thrust into the spotlight due to the pandemic that erupted last year.
Interestingly, physicians and pharmacists ethics ratings also improved.  Nursing home operators are at 8th place, a new high for the category at 36%, significantly higher than in polls of recent years.
Nurses ranked head-and-shoulders over other professions.  Excluding the pandemic, the public over the years has witnessed the heroic acts of nurses after hurricanes and other natural disasters and in the aftermath of mass shootings.  However, this past year, it was very unfortunate that nurses were thrust into the spotlight because of the pandemic.
It is nice to see nurses at the top again as they deserve to be.  However, in my practice, I sometimes see where nurses are so interested in helping others that they forget about the ethics of their work.
Now, if you are faced with a situation which does not feel quite right in your gut, but you still want to help, the answer is … don't do it!
Let me give some examples.  Because a nursing home patient in an assisted living facility cannot make an ATM withdrawal herself, she asks you go to a nearby bank on your lunch break and make the withdrawal for her.  As much as you may want to help her, this is unethical as you are practicing outside the scope of your profession.
For another example, a fellow nurse tells you that she had already wasted a narcotic and asks you to just go ahead and cosign for her.  You agree and sign the chart though you did not actually witness the wasting.  You're putting your license in danger.
And for yet another example, you are a home care nurse, and a patient asks you to destroy non-controlled medications he no longer takes since he has no way to destroy them.  This is considered diversion because you are altering the course of medication from the person or the place to destroy it.  There are local take back programs or it they can be returned to a hospital or pharmacy, but you should not take these medications from the patient as you are altering the course of where they are supposed to go and are not authorized to take the medication.  You are doing it to help but it is an ethical violation.
While I am extremely grateful that the public has turned to nurses to be on top of the most ethical list again this year, I would caution that if you get that gut feeling that if you're being asked to do something that is not right, yet you want to do it help, then I suggest that you think again.
I would love to read your comments below about when nurses make decisions to help someone else when it is an ethical violation to prevent others from having this problem.