A Successful Side Hustle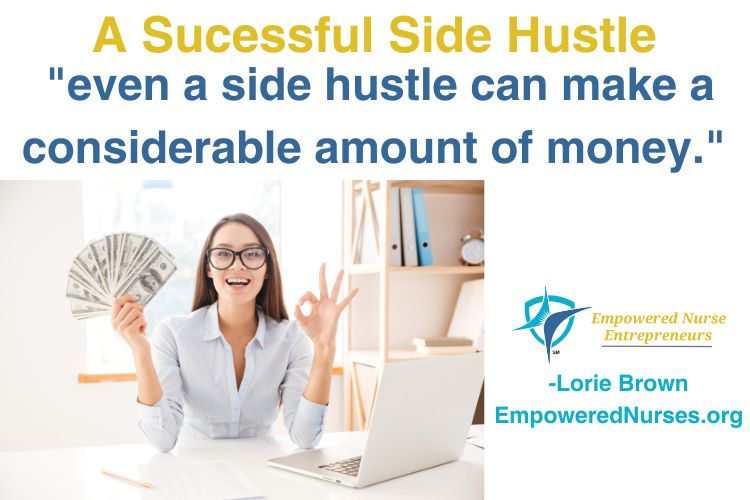 I love helping nurses to become successful.
Have you heard of Stephanee Beggs, R.N.?  Stephanee was in nursing school during the pandemic when the time for her to take the NCLEX neared.  Because she learns a subject better by teaching that subject, she started a TikTok channel.
That's right, Stephanee used the social media platform to provide instruction for the NCLEX test.  Her channel was so successful that eventually she had 600,000 followers. 
Nursing students and other followers kept asking Stephanee to please provide study materials and, as any entrepreneur would do, she saw a need and seized the opportunity to fill it.  She repurposed her information into study guides and materials for nurses which she sold through the global online marketplace Etsy, where people make, sell, buy, and collect unique items..
 Her business, RNExplained, was an immediate success and took off like a rocket to the moon!  To date, her business has brought to her over $2,000,000 in revenue.
Though I am not one of Stephanee's magical mentors, I'm sure she has had plenty of mentors to help her achieve this success because I don't think anyone can do something like this by themselves.
Forbes.com lists Stephanee as being among this year's "30 Under 30" successes, an annual presentation of the 30 top entrepreneurs who have not yet enjoyed their 30th birthday.
What I admire about Stephanee is that she took a personal need, tools to help her study, and used them to teach others as well.  When she realized the number of others she was helping, she created the study guides and sold them on Etsy.  Who knew that would create a $2,000,000 per year business?
I am proud of the accomplishments that Stephanee has had in her young career, and how they serve so many other nurses while providing her with profitable results. 
Business ideas are everywhere.  Find a need and fill it.  Stephanee is still working as a nurse in a Los Angeles emergency department, even though she is the CEO of RNExplained, "an educational platform that offers nursing study sheets and tips/tricks for nursing students and nurses around the globe."
I love how she took a need that would not only help her but also help thousands of others to pass the NCLEX, showing how even a side hustle can make a considerable amount of money.  She still loves working in the emergency department, using her critical thinking skills in caring for people in need.
One of the directors of her alma mater at Mount Saint Mary's offered her a position to teach at the Los Angeles university.  So, she's able to continue practicing her love of teaching while the sale of her Etsy study materials provides her plenty of passive income.
Stephanee said her biggest problem at the moment is learning how to grow and scale the business.  I think this is true of most nurse business owners because as they say, "New level, new Devil."  When things are going well, how can you scale and take your business to the next level?
Oh, I'm so proud of 28-year-old Stephanee's selection as 1 of the "30 under 30" by Forbes.com and her $2,000,000 business that is filling such a great need in the nursing community. The learning from this is to create a successful business, you need to find a need and then fill it.
When it comes time for you to face the new challenges of taking your business to the next level, seek the assistance that will help you be successful.