Are You the Walmart, Nordstrom or Neiman Marcus of Your Nurse Owned Business?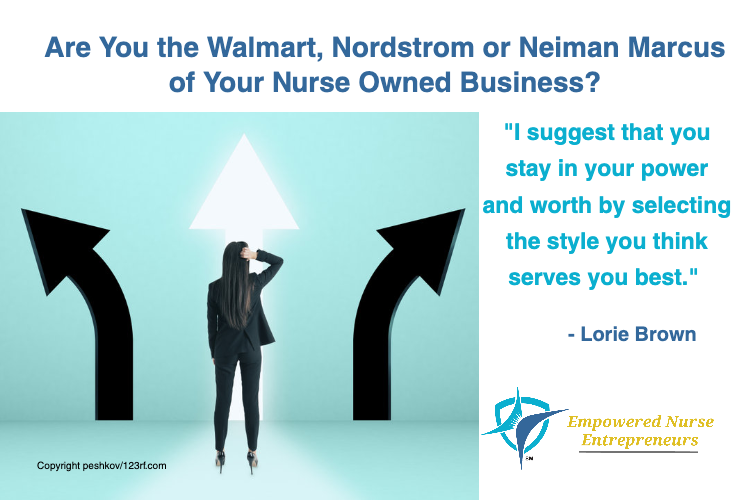 I have come over the years to sort out businesses into three classes, each modeled after a current successful company: Walmart, Nordstrom, and Neiman Marcus.
A Walmart business gives discounts to pull in patrons to purchase your goods or services.  It's like Groupon where people look at the price and the product before deciding which they wish to purchase.
The business owner does not get repeat business from the Groupon purchasers unless the business owner offers another discount for continued services or products.
I'll be straight with you, I used to be a Walmart for professional licensing defense.  I made a $10,000 mistake but learned valuable lessons.  I had so many nurses contacting me because of matters involving their licensure and a number would say they, "could not afford" me.
I'll be straight with you, I used to be a Walmart for professional licensing defense.  While I had so many nurses contacting me because of matters involving their licensure, some would hesitate when they learned the amount of the fees involved.
I felt bad for some nurses because they were going to face the board without legal representation because of financial limitations.
I decided to start a pre-paid legal fund where nurses could participate at a cost of $197.00 per year for which they would be provided with whatever defense they required if a legal situation arose.
In the meantime, under the plan, they could call me with questions and nursing employment issues.
I felt the $197.00 was fair and by pooling together everyone's money, there would be sufficient funds to cover the cost and fees of providing a defense for the occasional nurse needing legal assistance.
After setting up the fund, I asked the Board through a public records request for the email addresses for all of Indiana's licensed nurses.  Now, mind you, this was before the CAN-SPAM Act which sets rules for commercial email use.  My thought at the time was that I would email them about this amazing program to provide them with legal defense if they needed it.  To me, it was a win-win for everyone.
Ultimately, the Board refused to allow me the email addresses but, in fact, sent out their own email to all the nurses informing them that I had asked for their contact information.  At first, I was upset but I came to realize that name recognition is good, no matter what.
With that I hired my former boss as my attorney to take on the state to allow my public records request for the email addresses.  After paying roughly $10,000.00, my efforts eventually were for naught as I lost the case.
The universe was clearly giving me a sign that my proposed plan was not meant to be.
Although it was costly, it was a great lesson to step into my work.  Once I realized how much good I could do for nurses, felt my value to charge what I thought I was worth, everything changed.
I was able to attract the clients I wanted, clients able to afford my service and, in turn, clients whom I could reward with an excellent defense.
Those were my Walmart days.
Now, maybe you're the Nordstrom style of business.  Are your fees kind of in the middle-of-the-road?  Not too cheap (not based on bargains and discounts) and not too expensive where you price yourself out of the market?
Nordstrom is a nice middle ground which is the level at which I like to keep myself.   I needed to do a lot of work on my mindset to charge what I am worth and be able to receive it.  Now, nurses have no trouble paying for my services because I know my value and am able to share it.
Lastly, you might be in the Neiman Marcus level with your nurse owned business.  Neiman Marcus is high priced and consistently offers high value, high quality, and it overdelivers.
There is absolutely nothing wrong with being in the Neiman Marcus level with your business and, if you go this way, I think it's great!  You can be the icon at the top of the line for the service you provide.
Walmart … Nordstrom … or Neiman Marcus!  No matter which level of business you go with is only a matter of choice.  I suggest that you stay in your power and worth by selecting the style you think serves you the best.
Let me know your thoughts in the comments below.