Do you have a paper trail?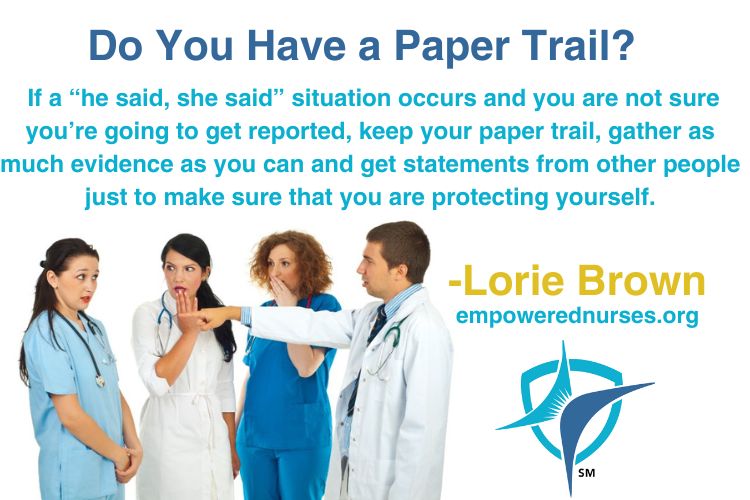 In nursing, documentation is everything! Figuratively speaking, I believe that you will live or die by your documentation. And when it comes to license defense and protecting your license, the same is true.
I am not talking about just documentation in a medical record but I'm talking about protecting your license. You need a paper trail! So many times, I have clients that were reported to the Board for a "he said, she said" situation. Here are some recommendations to create a paper trail.
If you resign, where is your letter or email of resignation? On the latter, make sure you blind copy yourself and keep a copy of the sent mail to show it was actually sent. That way you have proof that you notified the proper person that you have tendered your resignation.
Should you choose to mail the letter, send it certified. If you choose to hand deliver your resignation letter, be sure that you provide an extra copy, request the person receiving it to acknowledge in writing that they received it. Otherwise, they could deny they were ever notified.
Furthermore, they must accept your resignation and you must follow the facility's policies in terms of providing your number of weeks' notice because, if you do not give notice, it could be construed as job/patient abandonment.
If you feel you're not working in a safe situation and if you communicate with your charge nurse, again keep your paper trail, and send an email to your supervisor that you are concerned about your assignment and explain why. Be sure you put it in writing and, again, bcc yourself with your email and keep a copy of the sent mail. This way should any question arise as to whether you properly resigned, you will be able to verify that you reported your resignation to the supervisor.
"He said/she said" circumstances can arise too and trying to get evidence after the fact to confirm your provision of proper notice might be difficult. The Board is going to side with your employer if a "he said/she said" contest pops up.
So, if a "he said, she said" situation occurs and you are not sure you're going to get reported, keep your paper trail, gather as much evidence as you can and get statements from other people just to make sure that you are protecting yourself.
It is unfortunate that we have to keep a paper trail but just like the medical record, it is your best protection of what happened, therefore create contemporaneous documentation and keep your paper trail.