Faith Or Fear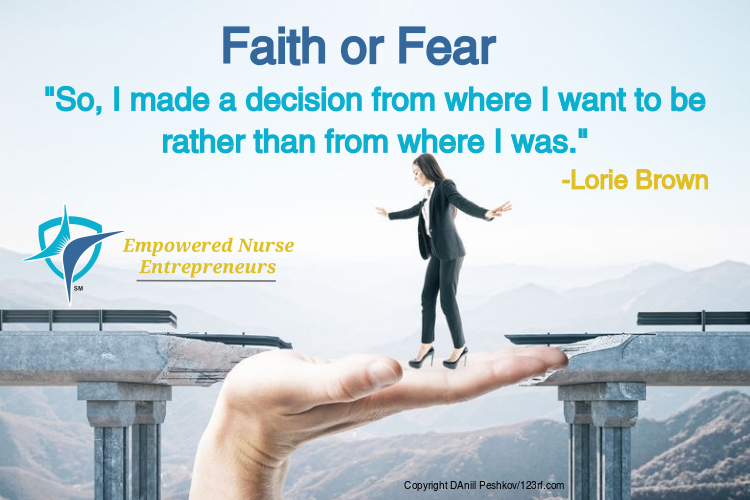 As a business owner, we can make decisions from faith or decisions from fear.  Making decisions from fear will probably keep you stuck versus making decisions from faith knowing that your business will be successful and what you're doing now is ultimately going to help it grow.
A lot of times I hear business owners make excuses that they don't have money or don't have time.  They don't have money or time to invest in the training that they need or the support staff they need or the equipment they need.  Successful business owners make decisions from the top of the mountain, from their vision.  If you make decisions from where you're at, based on outside circumstances like I don't have any money or time to do something, then you will stay stuck and your business will not grow.
Let me give you an example.  7½ years ago, my business was going well.  I was making money and for a couple of years prior to that I had a part time assistant.  My part time assistant gave notice and I was really depressed.  What was I going to do?
I went to have breakfast at the place down the street where I visited occasionally.  There was one server who always had a smile on her face.  The customers at her tables were always happy.  They always had their glasses full and she always got their order correct.
On this particular day, she asked me if I was okay because I must have looked sad.  I said I was upset because my secretary just gave notice.  I asked if she knew anyone who was looking for a job and she said she was.
I looked at this adorable 18-year-old who had just graduated high school wondering how she would fit in my business.  She knew nothing about law or nursing.  She came and interviewed, and I really liked her, and she liked the office, but she said she wanted to work full time.
My mind was, "how can I hire a full-time employee?  It's double the pay of what I'm paying now and if money doesn't come in one week, I would still have to pay her salary."
It was a very difficult decision but what I decided was first I'm going hire based on qualities instead of skills.  I can always teach the skills but can't teach the qualities.  Her qualities were she was a very warm, caring, organized, patient person.  I thought that's exactly the type of qualities I need in my office.
And then the next decision was if I was going to take her on fulltime.  And I said to myself, "I want to continue to grow and I am going to need to help."  So, I made a decision from where I want to be rather than from where I was.
By hiring her full time, it allowed me to be the CEO of my business rather than spending my time on administrative matters that didn't need my level of expertise.
My time was better spent getting clients in the door and doing the work.  That was the best decision I've ever made.  Amanda has been with me 7½ years and my business is barely recognizable.  We have grown so much and I am grateful she has stuck with me.
Therefore, the moral of the story is to make decisions from faith and where you want to be rather than from fear and where you are now based on circumstances.
I hope this helps you moving forward in your business.