Fraudulent Nursing Diploma's and Transcripts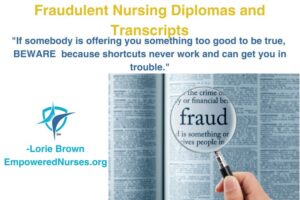 The Department of Justice recently arrested 25 people scheming to sell bogus nursing diplomas and transcripts, charging them with wire fraud and wire fraud conspiracy.
Thousands of people who had hoped to take a shortcut toward becoming a licensed nurse were fooled into obtaining these items that are necessary to sit for the NCLEX.
The enforcement action spanned 5 states: Delaware, Florida, New Jersey, New York and Texas. In Florida, nurses who were part of this scheme are having their licenses suspended even as you read this.
This is really scary because more than 7,600 fake nursing diplomas and certificates were issued. However, now that these nurses' licenses are in jeopardy or being suspended, the phones are ringing off the hook in the offices of many members of The American Association of Nurse Attorneys.
It is unfortunate that nurses would succumb to these scam tactics and many nursing candidates paid as much as $15,000 for fraudulent diplomas. Do your homework. Make sure your nursing school is approved by your state Board of Nursing which is charged with regulating nursing education.
There have been nurses who have gone to other programs that have closed. These schools told the nurses that they would accept their credits and they could finish up their education only for them to find later that they paid lots of money to get a fraudulent diploma that was not approved by the Board of Nursing and a fraudulent transcript that allowed them to take the test.
It's very unfortunate that so many nurses fell for the scam and will no longer be able to practice which eventually will leave an even greater shortage of nurses for the country.
If somebody is offering you something too good to be true, BEWARE because shortcuts never work and can get you in trouble.