Is Travel Nursing A Great Option?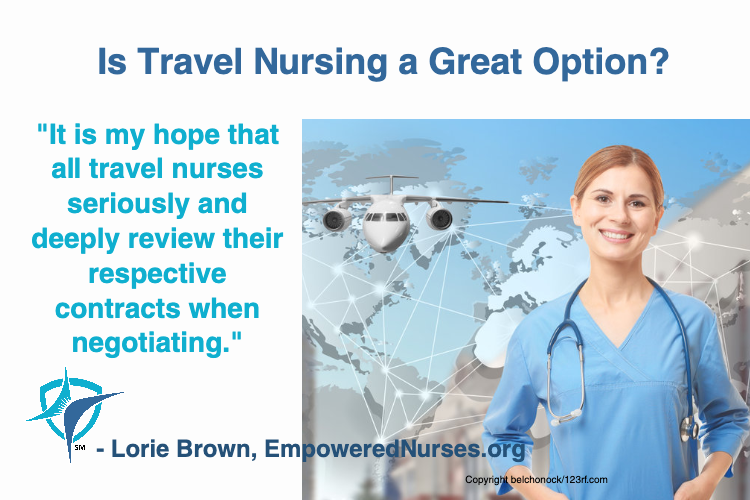 I did not realize that travel nurses make an average hourly rate of $120.00 per hour!
In an article regarding travel nursing by the numbers, the R.N. vacancy rate is a full percentage point higher this year than in 2020.
However, the number participating as travel nurses is declining because the cost of travel is so much more than it was last year thanks, in part, to rising fuel prices.
Travel nurses made an average of $1,673 per week last year, and now make more than $4,000 per week in some cases.  In May 2020, the annual pay to travel nurses averaged $75,330 per year with the lowest pay for a registered nurse at a facility was $53,410 per annum.
While it is great that travel nurses are pitching in and seizing the opportunity to fill in where staffing help is needed, this is a huge area where nurses can get into trouble.
Nurses need to know the policies and procedures of the hospitals where they will be working.  Just because you worked at one hospital where things were done a certain way does not mean you can do the same things the same way at another hospital.
Additionally, many nurses are not reading their contracts.  DO IT!
I frequently receive telephone calls from nurses who say things like, "Well, they promised me this, but they didn't deliver."  No matter what they may say, if it is not in the contract, it is not going to happen!  You might be told that you will not treat CV-19 patients YET find yourself on a COVID floor. You do not have a choice unless it is specifically stated in the signed contract that you will be doing no such thing.
Many travel nurses just sign on the dotted line without knowing what they are committing themselves to.  The contract may be canceled for any reason, even before they start.  So, an unknowledgeable nurse may move across the country to take a position only to find upon arrival that the position is no longer available.
Another problem is that one may have to pay a fine should they decide to leave the position early.  Failing to read and understand a contract can expose you to a myriad of problems.
It is my hope that all travel nurses seriously and deeply review their respective contracts when negotiating.
As of now, many contracts are standard with no negotiation, but if until travel nurses band and stand together saying, "We are not going to sign this, we are not going to agree to it unless we have certain conditions in the contract," it will never happen.
Now is the time, as travel nurses are so needed, to band together and advocate for your protection with provisions in the contract that protect you.