Nurses' Week: Was Your Employer Naughty Or Nice?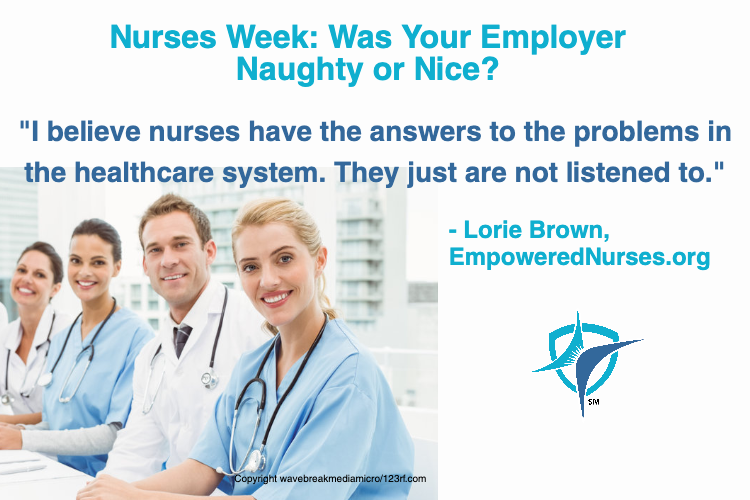 I have heard that many hospitals have done away with Nurses' week and now celebrate "Hospital week." Interestingly, the largest workforce in healthcare is nurses, yet their one special week gets taken away from them when doctors have their own day and other health professions have their own day to celebrate.
According to an article in BECKER'S HOSPITAL REVIEW, and a survey in connectRN, 63% of nurses say, "The typical way their employers show appreciation feels patronizing."
That is really sad.  Although nurses want to be paid appropriately, they want to feel valued, respected, have adequate staffing, feel like they can do their job and feel supported at work both physically and emotionally.
Years ago, I created a "Nurses' Bill of Rights" because we have a "Patient Bill of Rights" where patients have rights but nurses rights go unattended.
In another article by BECKERS, they discussed how 18 hospital executives wrote notes to nurses and praised them for the excellent job they were doing and how they are the backbone of the healthcare system.
Some lackluster gifts nurses received in the past for Nurses' Week included business card holders.  I don't know how many nurses, if any, carry business cards, tote bags, cookies, cakes, and packs of Extra gum, "because we're 'Extra' special."  Last year, rocks were given stating 'gratitude rocks' for the nurses' services. Some now call these "Nurses' Weak" gifts.
While these gifts seem to have been created by a corporate marketing person; they seem to fail in what is really in the best interests of the nurse.
I also have seen on Facebook, copies of emails to staff saying, "I know we're extra short staffed now and if you do not take this assignment, we can take a walk to HR."  That is no way to treat nurses for all the hard work they do to care for patients and to support the cause for the hospital's very existence.
I have always believed and claimed that nurses are the hardest working people on the planet.  You cannot pay people enough to do the work that nurses do.
It is time that hospitals bring nurses to the table and ask them what they want … AND DELIVER!
Instead of fighting and letting nurses go on strike, let us sit at the table and have an adult conversation to find solutions.  I believe nurses have the answers to the problems in the healthcare system.  They just are not listened to.
It saddens me that the profession that I love is so broken and that nurses are treated poorly, especially on their special week, like factory workers that are replaceable.
I believe that nursing is in our DNA and not everyone can be a nurse. If you are a nurse for the money, you will not be in nursing for long.
I would love to see administration show the care and concern for their nurses the same as nurses do for their patients.
What does your health system do for you for Nurses' Week?  Let me read your comments below.