Nursing Students In Times Of Covid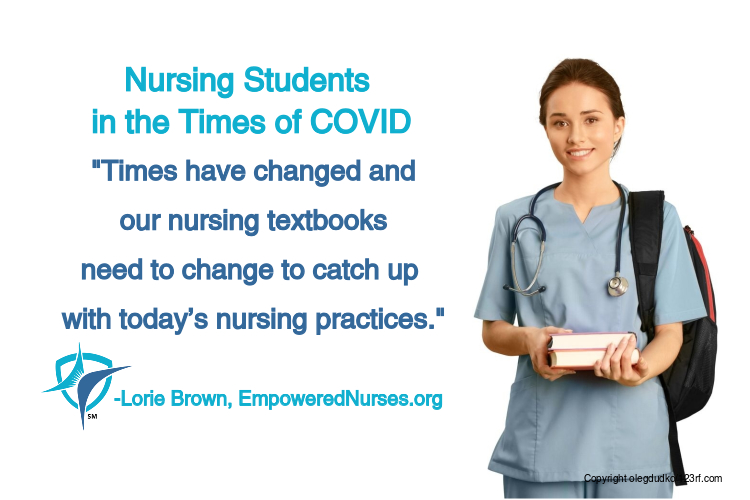 Can you imagine being in nursing school while a pandemic flourishes all around you?  I remember how scared I was when I first graduated, wondering if I was going to remember anything, if I was going to get it right and/or whether a patient was going to die.  To also worry about the effects of an ongoing virus outbreak would have greatly elevated the already existing worry and stress levels.
The future of our profession is in the hands of our current nursing students.  In a recent article, the student nurses were concerned about inadequate protection for health care workers and slow government response.  The students also were concerned about being overworked and suffering mental trauma.
One student said she wore a mask for only 15 minutes but felt like she was breathing through a comforter.  The feeling was of claustrophobia and she could not imagine having to work the whole day wearing it.
With all the attention focused on nurses and the profession being in the public eye, I am very empathetic to all the problems nurses are having at this point.  And I, too, can imagine how scary it would be for these students.
When I started as a nurse, I remember how terrified I was to speak up to a doctor.  Amazingly, one student related recently that her current textbook said, "Listen to what the doctor is saying."  "Do not disrespect your doctor." "Make sure you follow through with their orders."
Times have changed and our nursing textbooks need to change to catch up with today's nursing practices.
The public now knows that nursing is not a safe, stable, and easy job and that nurses are the most understanding and empathetic health care professionals.
Nurses today are working under extremely tense conditions.  With short staffing, shortage of supplies and, as we have seen, the general danger of a new disease.  Many nurses say, "We signed up for this!"  Yet, that is not true.  We do not have to work in conditions where it is not safe to do so.
Today's nursing curriculum heavily emphasizes risk prevention of disease and skills such as creating a sterile environment and how to put on/take off PPE.
Nurses are now needed more than ever and are incredibly important to bringing more nurses to the work force to decrease short staffing.
As I say, "If you feel in your DNA that you are meant to be a nurse, then go for it."  But if it is something that you want to do just for a good job with the safety and security of employment … it is not worth it.
I am hoping that students will go into the work force feeling empowered and can stand on the front lines with other nurse heroes.
Nursing students!  You are our future!  We appreciate everything that you are doing to become dedicated members of our profession.  Please share this article with nursing students as it may be helpful to them.