Surprising Findings From Nurse Practitioners' Professional Liability Exposure Report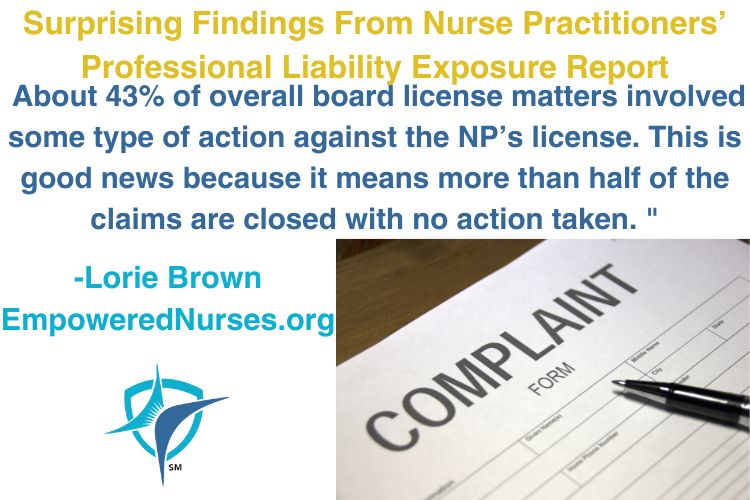 Nurses Services Organization (NSO) and CNA recently published their claims data report which tracked malpractice claims against nurse practitioners (NP) as well as claims for violations of the Nurse Practice Act.  The data shows that malpractice costs are on the rise!
What this report showed is that the number of claims against nurse practitioners had settled for an amount 10.5% more than 2017, when the last claims report was issued.
Professional liability claims are now settling at an average of $332,137.  I'm not sure if this is a result of inflation, or because there are more NPs or because more harm is occurring or any combination of those 3 considerations.
A big surprise is that of all the claims filed, the highest average number is attributed to neonatal nurse practitioners. This is because any injuries to babies are significant.  But considering OB is one of the highest areas of malpractice for physicians, it would seem to be true for nurse midwives. But it is not.
Compared to the neonatal statistic, it was no surprise that 23% of claims were in the area of aging services which had gone up 3.1% over the last 5 years.
The top 3 locations where NP claims were made are (1) physician office practices, (2) aging services facilities and (3) nurse practitioner office practices. Considering that the majority of NPs work outside of the inpatient setting, except for aging services facilities, that is not all that surprising.
The highest number of complaints involved diagnosis-related claims.  That was a 37.11% increase and those claims settled for an average higher than the professional liability claims, averaging at $385,947.
Death and cancer were the 2 most common injuries representing more than half of the claims. This was due to the failure to diagnose cancer claims since more people go to nurse practitioners for basic wellness issues.
One nice thing is that the number of claims without payments increased by 11.1%.  I'm not sure whether more claims without merit were filed since 2017 or if they were winning more claims, but this is good news.
Interestingly, for license protection matters, the highest 3 claims were regarding professional conduct, medication prescribing and scope of practice.
Lastly, about 43% of overall board license matters involved some type of action against the NP's license.  This is good news because it means more than half of the claims are closed with no action taken. 
I always find these types of reports interesting, and I like to see the trends they expose to help you protect your license against malpractice or license discipline.