Top 10 Tips To Start A Nurse Consulting Business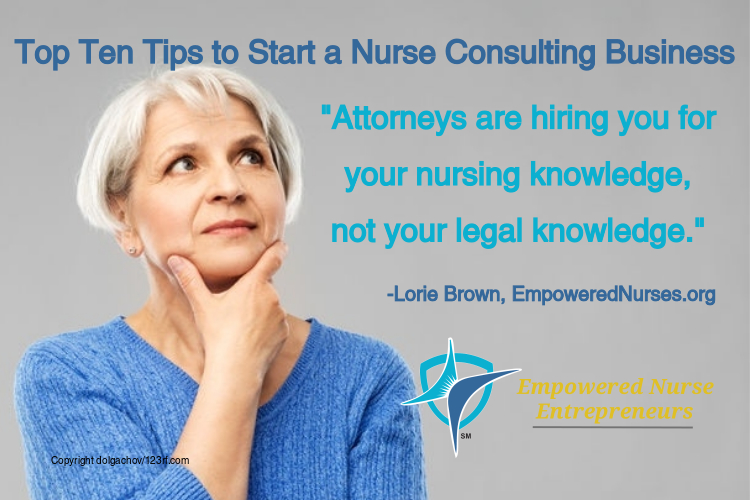 1: Do you love being knee-deep in records and solving puzzles?
That's what legal nurse consulting is about. You will be given a stack of records and asked to solve the puzzle.
2: Are you able to focus your attention?
As a legal nurse consultant, given a stack of records, you will need to be able to focus on the documentation and condense them into a shortened simplified format so that an attorney can understand it.
3: Are you a people person?
To obtain cases, legal nurse consultants need to get out there and meet attorneys and ask them how their services can benefit them. The LNCs job is to determine if the attorney has a need for your services and how you can fill that need. Initially, legal nurse consultants are hesitant to talk to attorneys. I remind them when they first started being a nurse, they were afraid to talk to doctors and now they tell the doctors what to do. Unlike doctors who have superior medical knowledge, attorneys are relying on you to explain the medical information. So, there is no need to be afraid to speak to them.
4: Are you persistent?
To be an effective legal nurse consultant, you will need to follow up over and over again with potential attorney clients. They are on to the next thing and forget, they may not remember who you are. Persistent follow-up, in the right time, can mean the difference in obtaining a case or not.
5: Do you like creating relationships?
Being an independent legal nurse consultant is all about creating relationships with potential attorney clients. By developing strong relationships, the attorney will use you over and over again. The beautiful thing about being a legal nurse consultant is that once you get your stable of clients, the need to continue to market decreases substantially unless you want to continue to grow.
6: Are there enough cases in my area of specialty?
Yes, you can limit your legal nurse consulting practice to cases in your specialties, however, I believe if you take an overall variety of cases, you will have more business. As a nurse, you are trained in all different areas and have the knowledge and expertise to handle different types of cases. However, and if you don't know the answer, as a nurse, we know how to find the answer to do a good job in a case.
7: Should I work only Plaintiff or Defense?
As a legal nurse consultant, you can work both sides of the fence as long as you do not have a conflict of interest. A conflict arises when you were working on a case against the hospital and then work for the Defense representing the same hospital. You also do not want to work against a facility where you are still working.
8: Do I have to testify?
There are 2 types of legal nurse consultants, one does behind the scenes consulting and the other does expert witness work. Expert witnesses are required for the Plaintiff to prove their case or to defend Defendant's case. A behind the scenes consultant is not required. However, behind the scenes legal nurse consultants are extremely valuable in cases because they help the attorney to decide whether to pursue the case or to settle it.
9: Do I need a website?
No. Attorneys are not taught what a legal nurse consultant is in law school. The only way they know you exist and can help is to talk to them. Since many attorneys do not know what a legal nurse consultant is, they don't know to search for you.
10: Do I need certification to become a Legal Nurse Consultant?
Attorneys are hiring you for your nursing knowledge, not your legal knowledge. A class may help you feel more comfortable but they teach you one way of doing things. Your attorney client may want things done differently. In my experience, many attorneys do not know about certification for Legal Nurse Consultants and therefore, typically will not hire you because you are certified.