Top Questions Nurses Ask When Starting A Nurse-Owned Business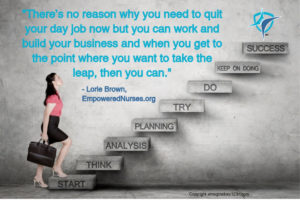 Maybe you're frustrated with nursing or maybe you've had a dream that you've always wanted to turn into a reality.  When is now a good time to start?
Nurses are uniquely qualified to start their own businesses because they have excellent organizational skills, they have critical thinking and have great relationships with their patients.  Unfortunately, nurses are used to relying on their employment paycheck so in starting their own businesses, it can be very scary.
I always say, "Build the plane as you fly."  There's no reason why you need to quit your day job now but you can work and build your business and when you get to the point where you want to take the leap, then you can.
Nurses are lucky that many nurses work 12-hours shifts, leaving 3 or 4 other days in the week to devote to a business.
QUESTION 1:  What kind of business should I start?
There are so many businesses that nurses can start including legal nurse consulting, nurse on staffing agency, home health care agency, wellness coaching, diabetes coaching, case management, private duty, nursing in home, senior care, hospice services, respite care, foot care services, childbirth education, lactation consulting, fertility consulting, concierge nurse service, patient care consulting, telehealth service, health coaching, public speaking, continuing education, mindfulness coaching, home IV therapy, holistic health services, nutrition counseling, to name a few.
My recommendation is to chose something you love doing because on the days where it's hard to get out bed, your passion will keep you going.
QUESTION 2:  Do I need a certification?
You have an R.N. license and the scope and education.  Even though certificates cost time and money, most clients won't even ask if you have a certificate.  There is no national certification and, therefore, certifications may not be necessary.  However, the education that you take to obtain the certification may be helpful to you in knowing how to do this job but not necessarily how to get business.
QUESTION 3:  What type of entity should I be?
I always say there is no reason to be an entity unless you're making money.  The sole purpose of having an entity is to protect you from liability.  But how can there be liability if you are not providing services and making money?
It depends on your risk tolerance but starting your business and making sure are successful first, then investing in creating an entity.
For example, if you start a staffing agency, you may want to form an entity right away.  But, if you want to do one-on-one services like providing coaching, wellness services, case management, legal nurse consulting and those kinds of services, you may not need to spend that kind of money creating an entity right away.
QUESTION 4:  Should I have my own business insurance?
Again, the only reason why you would need business insurance is if you are successful and concerned about liability.  It depends on your own risk tolerance.  I suggest getting business insurance at some point but when you're just starting, wait until you have a client, it may not be necessary right out of the box.
QUESTION 5:  Do I need a website, brochure and business cards?
I always say, "The easiest way to make money fast is to start talking to people."  That is the easiest way to get clients.  If people don't know you're out there, they are not going to know to search for you.  So, creating an elaborate website may just be a waste of money unless you know how to drive traffic there when people are actively looking for your services.
If you're starting a home healthcare agency or senior care or where people would like for those type of services online, then create a website.  Legal nurse consulting, wellness coaching, nutritional consulting or case management, a website at this point may not necessarily be prudent.
Go out and start talking to people, get clients and as you get encouraged and make money, then invest in peripherals such as website, brochures and cards.
You can see I take a very practical approach to starting a business!
QUESTION 6:  Do I need to be licensed in the state that my client is in?
That is a controversial question.  If you are providing any type of nursing services then, obviously, the answer is yes.  However, if you are providing wellness coaching for which anybody can obtain a certificate, then it's debatable.  If you are using your nursing knowledge and promoting yourself as a nurse, then it could be considered nursing care in which case you would need to be licensed.  There may be creative legal solutions to this though.
However, the Nursing Boards see you wherever you are working as being a nurse 24/7.  And if you are using your nursing background to get clients, then you should be licensed.  Unfortunately, the State Nurse Practice Act does not catch up with the changing times and expanded roles of nursing.  For example, health coaches at insurance companies are required to have licenses in 50 states.
What questions do you have about starting a business?  Feel free to set up a 15 minute strategy session with me to see how I can assist you.  Call (317) 465-1065 to schedule.