A TALE OF 2 SURVEYS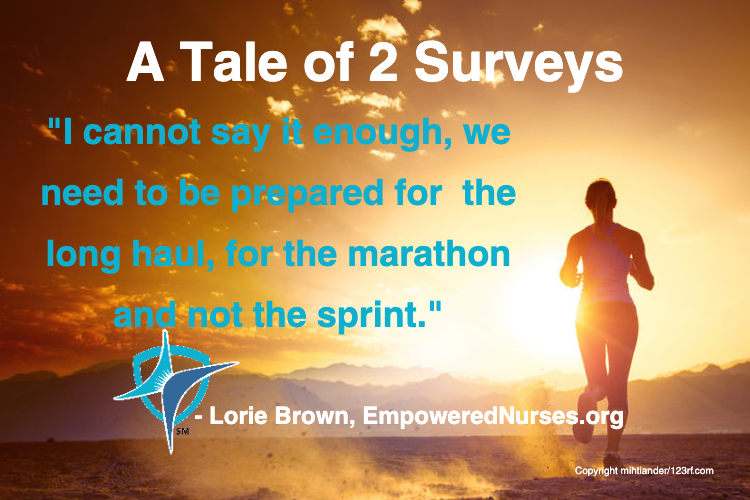 In a recent COVID-19 nurse survey performed by HOLLIBLU and Feedtrail of 1200 nurses affiliated with 400 hospitals from all 50 states stated that 61% said they are likely to leave their current position or specialty.  67% said they were planning to leave the facility or industry altogether and 74% currently are experiencing high levels of anxiety and emotional stress. 94% of the nurses surveyed said they were in need of peer support groups, mental health counseling or financial assistance. Nurses should be receiving combat pay for working on the frontlines.
These survey results absolutely break my heart because nurses are the hardest working people in health care.  We are shouldering the burden of this pandemic and deserve to be treated better.  There must be care for the caregiver.
In another survey, performed by the American Nurses Association, 51% of nurses felt overwhelmed, 48% said they were anxious, unable to relax or irritable and 40% said they were sad.  60% said they were sleeping too much or too little.
Nurses feel supported by their families and peers while saying they put the health, safety, and wellness of their patients before their own.
While these results are concerning, I cannot stress enough that we are in a marathon and not a sprint.  The end is not in sight for this pandemic and in order to be able to function, nurses need to put themselves first.
Fortunately, only 3% of the nurses surveyed have actually been diagnosed with COVID which is really good
It upsets me when I hear nurses say, "I got COVID and my hospital will not pay me during my absence."  Seek the assistance of a Workers' Compensation attorney to get the help that you need.  But, more importantly, do things to protect yourself and keep your strength and stamina for the long haul.
It's also concerning where states such as Idaho are struggling to staff hospitals because travel nurses are working elsewhere.  I cannot say it enough, we need to be prepared for the long haul, for the marathon and not the sprint.
Take care of yourself and now is the time to speak up and ask for what you need from your employer because they need you now more than ever.