Do Virtual Nurses Really Exist?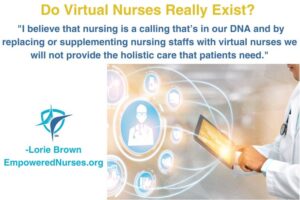 Apparently, a number of hospital systems are implementing "virtual nurses" to help the bedside nurses who have been chronically short staffed. 
Virtual nurses can assist with the admissions paperwork and the discharge education.  They can answer questions, talk to family members and, after the patient is discharged, can be a communication loop between the patient and their primary care physician.  In addition, virtual nurses can do a virtual visit after the patient is discharged to home. 
I have joked that I was a nurse when "dinosaurs roamed the earth."  At that time, we still wore whites while some wore their caps and graduation pins.  In those days of giving, nurses on the evening shifts were even required to give patients back rubs. 
Having said that, and no pun intended, I believe the "hands-on art" of nursing is getting lost in the tasks of nursing.  However, given the challenging times in which we now live, maybe these virtual nurses can be of great help to bedside nurses and lesser experienced nurses.  It sounds like a great job to me, but truly I would miss the patient contact. 
Becker's Hospital Review interviewed several chief nursing officers, many of whom believe that virtual nursing is here to stay.  However, one chief nursing officer said that virtual nursing does not create the trust that bedside nursing does. And it's a challenge to have a real human connection through virtual care. 
He believes that if this trend continues, we will all lose.  "Nurses put the humanity into care and need to be present at the bedside."   
I agree with him. I believe that nursing is a calling that's in our DNA and by replacing or supplementing nursing staffs with virtual nurses we will not provide the holistic care that patients need.  It makes health care 2D instead of 3D. 
What are your thoughts?  Please let me know in the comments below.