How to Report Hospital Violations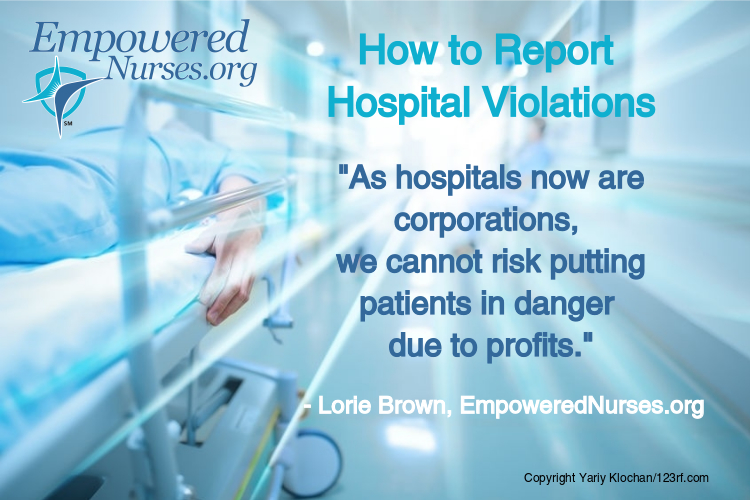 Julie Griffin, R.N., once worked as a cardiovascular ICU nurse (CVICU) at Westside Regional Medical Center near Miami in Plantation, Florida owned by Hospital Corporation of America (HCA).
On August 10, 2018, Ms. Griffin filed a lawsuit claiming that she was retaliated against and fired for making whistleblower complaints.  She had concerns that were brought to the attention of management and administration claiming that the hospital required nurses to care for 3 cardiac patients at the same time.  There is an order stating that all patients need to be continuously monitored which cannot be carried out with 3 patients.
In one room, the screen could be split for data on only 2 patients but there is no way to monitor data on a 3rd patient.  Nurse Griffin believed that violated physician orders for continuous monitoring as there is no full-time staff at the nurses' station to monitor telemetry for all CVICU patients.
In an interview with Ms. Griffin conducted by Hospital Watchdog, she stated that other people on her unit had expressed concerns about taking 3 patients but never said anything because either they were close to retirement or they had children and feared for their jobs.
Ms. Griffin also was bullied by her Director.  One day while sitting at the nurses' station preparing to leave, her Director approached and said, "There are no personal food or drink allowed at the nurses' station."  She replied that her cup was clean and empty, and she was preparing to leave.  The director threw her cup in the trashcan stating, "You know the rules."
Westside did acknowledge that the Director's actions were inappropriate.
Ms. Griffin felt that she was harassed.  She was asked to accept a 3rd patient (while another nurse had only 1 patient) and when she refused, she was immediately placed on administrative leave which, 2 weeks later, was followed by her termination.
Westside since has changed its policy and now continuously monitors all patients in the CVICU.  For that, Ms. Griffin is glad she spoke up and that change was made.  However, it's unfortunate that she was forced to seek the legal system to accomplish that.
Many nurses are afraid to speak up in such situations because they can't afford to lose their jobs.  But it is only by speaking up that change can be made.
Hospital Watchdog also reported that HCA is the largest for-profit hospital chain in the United States.  It brought in almost $47,000,000,000 in 2018.  This year, 2019, the CEO is being paid $10,000,000 for his services and the Chairman is being paid over $20,000,000.  That's over $4,800 per hour for the CEO and almost $10,000 per hour for the Chairman.
As hospitals now are corporations, we cannot risk putting patients in danger due to profits.  In fact, HCA has reportedly cut many corners and has paid out close to $2,000,000,000 in penalties, fines, settlements, criminal and civil damages, etc. for various fraudulent or legal schemes over the last 20 years."
Although Nurse Griffin did go up the chain-of-command, it was not effective.  The entity overseeing hospitals, the Centers for Medicare and Medicaid Services (CMS) has information on how to anonymously file a complaint as well as the Joint Commission.
Should you be in a situation where you do not feel that your patients are being cared for adequately and you are put in a situation that compromises patient care, I highly encourage you to report it!
Do you feel like you can speak your mind or are do you fear being terminated?  Is your facility listening to your concerns?  Let us know your comments below.