How To Stay Clinically Up To Date In A Non-Clinical Position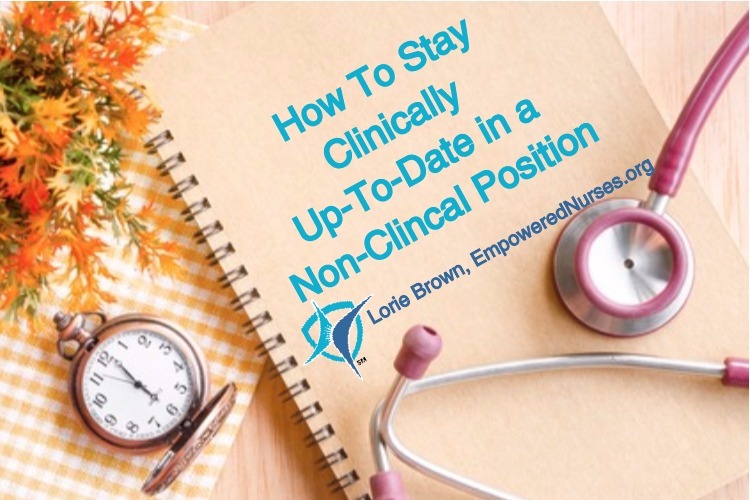 These days there are so many areas in which we can practice nursing, many of which are not clinical. But how can a nurse in a non-clinical position stay current with the ever changing nursing practice? Well, I have a few suggestions.
There is a myriad of things that nurses can do to stay active. We can take courses, attend conferences, participate in web-based activities or even informal sharing of practice.
One of the best ways to stay current is with continuing education. It is helpful to attend continuing education in person because it is easier to pay attention and usually the most current information is provided in those classes.
Another option is to subscribe to (and read) professional journals. Journals contain the most up-to-date information in our profession and many provide continuing education credit by reading the article, completing and submitting a post test.
Staying active can also be done by joining committees in your health care organizations. Of particular benefit would be committees that work on policies and procedures as well as provide organized educational offerings to staff.
If it is possible in your health care organization, another way to stay current is to do chart reviews. I think this is an excellent way to really get a handle on what is going on in nursing as is keeping up-to-date on evidence based practices.
You might join the American Nurses Association or other organizations and read their publications.
Take classes from the National Council of State Board of Nursing regarding critical thinking. "Critical thinking" is defined as "purposeful, self-regulatory judgment that uses cognitive tools such as interpretation, analysis, evaluation, inference, and explanation of the evidential, conceptual, methodological, criteriological or contextual considerations on which judgment is based." This type of learning helps nurses to use strategies such as reflective thinking as a part of learning to identify the issues and opportunities and synthesize the information in your practice.
It is interesting to note that many States do not require active clinical practice to maintain your nursing license; others do not even require continuing education. Requiring continuing education places a burden on the State agencies that administer licenses and is expected to be required by your employer.
If you've been away from active nursing practice for an extended period of time for any reason, perhaps raising a family or working in a non-clinical position, and do plan to return, I strongly suggest that you take a refresher course. There are fresher courses that have a clinical as well as a didactic component. It's a great way to refresh your learning, find out about the latest best practices in nursing and to provide re-entry into the practice.
If you are not clinically active, I would love to hear your thoughts on how you stay current. Please share your comments below.