Mentors Are A Must In Nursing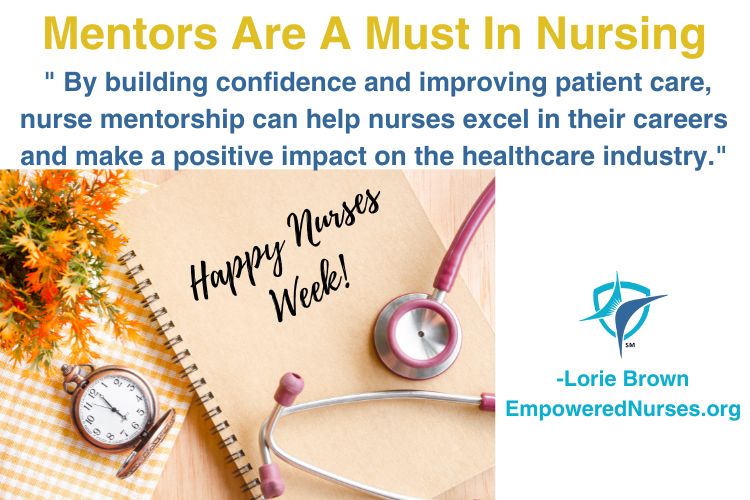 As nurses, we are assigned a mentor or preceptor at a new job. Mentors are critical in your development and success.  A mentor is an experienced and knowledgeable nurse who guides and supports the nurse still growing in their experience by guiding them to navigate the complexities of the nursing profession and how to help them to gain success in their new role.
However, I strongly suggest that you get a mentor who is outside of your employer because when you are swimming in the water, you can't always see the shore.  A mentor from the outside has a different perspective on things and can actually see the land because they are not in the water with you.  This allows them to guide you more effectively in your progress.
The benefits of having a mentor include one of improved job satisfaction.  Starting a new job is stressful and can be overwhelming.  A mentor can provide guidance and support to allow you to adjust to your new role.  This leads to an increase in your satisfaction which is essential for success in your long-term career.
A mentor can give you enhanced learning opportunities.  Someone more experienced in the field can provide you with practical advice on patient care, offer guidance on clinical procedures and share their knowledge of evidence-based practices.  This can accelerate your learning and help you develop skills and confidence to excel in your new role.
Third point, a mentor assists with career development and advancement.  A good mentor provides valuable advice on your future career development.  They can provide guidance and professional development opportunities, conferences or training programs to help you identify areas from improvement.  With the support of a mentor, new nurses can find they will advance their careers and be able to take on new challenges.
The fourth consideration is that a mentor can help diminish the stress and anxiety of a new job.  When you start a new position, it's nerve wracking and can make you feel unsure of yourself in this new environment.  A mentor can provide encouragement, support, and help build your confidence in your abilities by giving you valuable feedback.  This experience will allow your confidence to grow, make you ready to take on new challenges and have a positive impact on patient care.
Lastly, another benefit of mentorship is improved patient care.  A mentor can help nurses develop their skills and knowledge which can result in improved patient outcomes.  As you gain experience and confidence, you will find more ease in taking on more complex patient cases and providing better care.
Nurse mentorship is a valuable tool for any nurse.  It provides guidance and support, enhances learning opportunities, and promotes career development and advancement.  By building confidence and improving patient care, nurse mentorship can help nurses excel in their careers and make a positive impact on the healthcare industry.