Nurses Should Not Have To Fear Abuse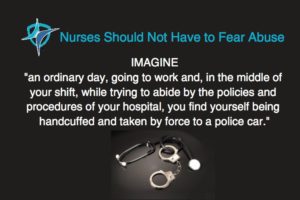 Imagine an ordinary day, going to work and, in the middle of your shift, while trying to abide by the policies and procedures of your hospital, you find yourself being handcuffed and taken by force to a police car?
That is what happened to Alex Wubbles, a nurse in Salt Lake City, Utah!
Alex was on the burn unit and working with a patient who was badly burned in a fiery motor vehicle collision when a police officer showed up.  The police had been on a high-speed chase of a truck driver who collided into another truck driver causing a fire and burns to the innocent driver.  The driver, who the police were after, unfortunately, died at the scene.  The officer not only demanded that Alex draw blood from the patient, but also said that he was NOT leaving without the vials.
She pulled out her hospital's policies and procedures, which detailed that such a blood draw was not permissible without the patient's permission or unless he was under arrest or a warrant is produced for the draw.  The patient was unconscious, not under arrest and the officer admitted that he did not have a warrant.
However, that did not deter him.  He said, "I am not going to leave without blood vials or body in tow," and proceeds to handcuff her under force and took her to the police vehicle.
Fortunately, she was released and no charges were filed.
This matter happened on July 28, 2017 and the video of Alex's arrest was later released by her attorney on September 1, 2017.  Until media attention began focusing on the now viral video, the officer continued to work for the police department.  Initially, as a detective, he was removed from the blood draw unit and placed on desk duty.  However, action was taken once the video became viral and he was placed on administrative leave.  The District Attorney is now looking into possible criminal charges against the police officer.
Alex has since received apologies from both the Salt Lake City Mayor and the Police Chief.  She accepted the apologies and believes there may be a positive outcome to this incident.  "I look forward to working with both of them to help promote further civil dialogue and education.  The common goal of all public service professionals should be to provide the best care to our fellow citizens. … The City has taken this matter seriously, and I believe that positive change will occur."
Still, this type of brutality should never have happened in the first place!  Nurses are healers and, just like police officers, are helpers.
Several criminal attorneys have told me they have heard police officers say that if they know a stopped driver is a nurse, they may not issue a ticket because they never know when they may need a nurse in their line of duty.  (That's not saying if you're a nurse, it's ok to break the law!)
I hope Alex's attorney filed a lawsuit for false imprisonment and violation of her civil rights.  It's unfortunate that she had to go through this humiliation and frustration.  It could possibly lead to post-traumatic stress disorder (PTSD), a frequent issue with nurses that is poorly recognized in our field.  No amount of money can compensate for that.
I am in no way an expert on this topic, but I do believe that PTSD in nursing needs to be addressed.  Nurses are not only sometimes treated poorly by administration and management, but by their peers and patients as well.  This needs to stop!
Now, more than ever, we need the Empowered Nurses Bill of Rights of which one is that nurses should not be hurt by a patient and another is to be respected by patients, their families, co-workers, management, administration, physicians and other health care providers.
To read the articles and view the videos of Alex Wubbles, check out our Facebook page at Facebook.com/empowerednurses .  What are your thoughts about the Alex Wubbles situation?  I'd like to hear your comments below.