Polarity in Nursing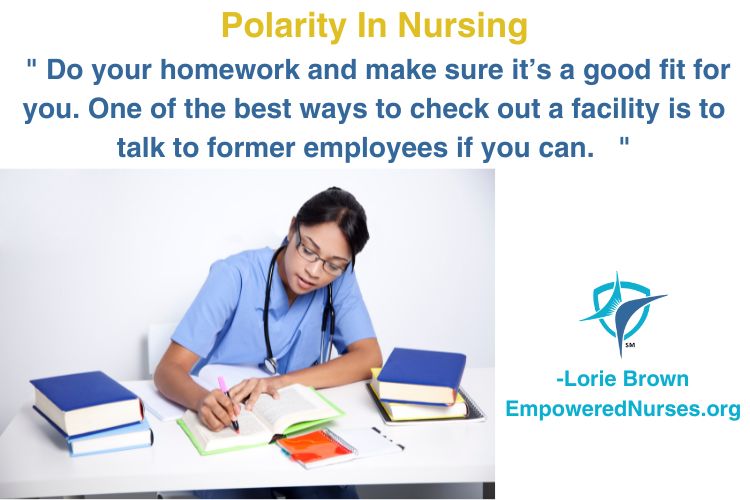 Polarity is the principle that everything has two poles, good and bad, love and hate, attraction and disconnection, and scarcity and abundance.
Everything exists at the same time, so we can see people living in abject poverty in tent communities all over the country.  And then we see the royals and celebrities with massive wealth and abundance.  Both sides are here and at the same time.
As a rebound from the pandemic, hospitals are offering lucrative incentive bonuses for nurses to fill the many vacancies in healthcare facilities.
Sentara Martha Jefferson Hospital in Virginia is offering a $15,000 incentive as part of the hospital's largest recruitment campaign.  However, on the other end of the spectrum, at least 52 hospital/health systems are laying off 4,000 workers, many of whom include nurses. These closures or layoffs can be seen in approximately 20 States and that the list is not yet exhausted.
What's happening now is that health systems are determining that they don't need so many facilities, so they are reducing or even closing some facilities.  Unfortunately, with not-for-profit healthcare systems, the funds need to go back into the. organization to avoid taxes. That's why we see new buildings being constructed, new services being provided, and hospitals being bought out so that the money can be reinvested to avoid taxes.
It is reported that California itself has an overall shortfall of almost 45,000 registered nurses.  With its mandatory staffing laws, it means that nurses who work on units in facilities cannot work short-staffed.
Palomar Health in San Diego County announced an incentive program where they will award up to $100,000 for newly eligible registered nurses for a 3-year commitment.  It'll be interesting to see who takes Palomar Health up on this because, indeed, $100,000 is a lot to pass up.
Be careful if you are offered a sign-on bonus because one must wonder how the facility is staffed if they can afford to give away $15,000 per nurse as enticement and, even more so, with a $100,000 lure. 
Also be careful of what you sign up for because if it turns out that the facility is not a good fit for you and decide to leave, you may have to pay the money back.
I know all of this is unsettling, but don't be swayed by the money.  Do your homework and make sure it's a good fit for you. One of the best ways to check out a facility is to talk to former employees if you can.  See who is no longer working there.
You can seek these people on social media to get a real feel for what's going on there before you accept a position or even maybe move across the country to accept the job.