The Mess In Healthcare Gets Messier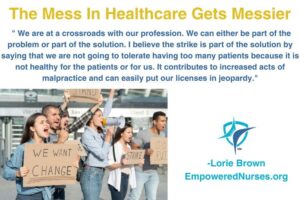 7,000 nurses walked out at 2 hospitals in New York City. I am so proud of these nurses who are saying, "NO," that they will no longer put up with short staffing. That is the sticking point for the nurses to walk out.
It seems contrary that nurses would walk out on patients if they're concerned about having sufficient staff, but this seems to be the only way to emphasize that point.
The hospital systems offered an almost 20% salary increase but the nurses are more concerned about safe patient care. I believe the nurses did everything they could to reach an agreement.
According to the New York State Nurses' Association, there are also over 500+ open positions in 1 health system and 700+ positions that were not being filled at the other health system. There may have been a question as to whether the positions were either frozen or even posted.
There was a 3rd health system targeted for a walkout as well but in that situation, the parties were able to resolve their differences.
The question now arises, "Will you cross the picket lines, or will you stand with your fellow nurses?" Many nurses will cross the lines because the pay is very lucrative. However, I would ask that the pay be put toward hiring nurses rather than putting what amounts to a band aid on things if everything falls apart.
You're the one who needs to wrestle with your conscience should you choose to cross the picket line. This is not about money. It's about fighting for safe patient care. You get to decide if you want to put money first and walk past your sister and brother nurses who are trying to make a real difference and improve patient care.
The hospital claims the strike impacts patients because babies are transferred from NICUs, cancer patients are forced to find alternative locations for treatment, elective surgeries are being postponed and ambulances are being diverted.
It appears the hospital is trying to shame the nurses for walking out for what they believe. Nurses should not carry 3 times the load. They should not have 20 patients in the ER when the average is 3.
Nurses should be treated with respect and dignity and given proper staffing. To do this work, day after day, with short staffing is a recipe for disaster.
No wonder there is a nursing shortage. So many are being burned out and leaving the profession. Many in the nursing population find it getting harder to handle that kind of stress and workload as they get older.
The decision to strike and leave your patients is undoubtedly a difficult one. You must battle with your feelings about being there for your patients or abandoning them, but I can say that this is one way to make a change. These 7,000 nurses are not just doing this for themselves but for all in the nursing profession.
According to the National Council of State Boards of Nursing, the average age of a registered nurse is 52 which is 10 years older than the average for the rest of the nursing workforce: 42.
According to healthaffairs.org, during the year 2021 alone, over 100,000 nurses left the profession, the largest drop in the last 4 decades!
In addition, the American Association of Colleges of Nursing says that in that same year, 2021, nursing schools turned away almost 92,000 applicants because of a shortage of qualified instructors.
We are at a crossroads with our profession. We can either be part of the problem or part of the solution. I believe the strike is part of the solution by saying that we are not going to tolerate having too many patients because it is not healthy for the patients or for us. It contributes to increased acts of malpractice and can easily put our licenses in jeopardy.
Interview with Nancy Hagans, R.N., President of New York State Nurses Association.