The Nurses' Strike Resolved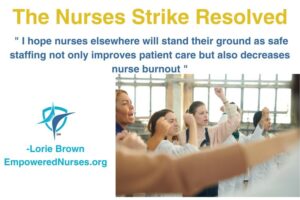 Last week in New York City, 7,100 nurses went on strike to improve patient care and ask for mandatory safe staffing.  A resolution was reached after 72 hours.  Pay was never the issues as an almost 20% raise over the next 3 years.  The nurses negotiated an 
-increase in over 170 nursing positions, 
-maintaining fully-funded healthcare for eligible nurses and 
-lifetime health coverage for eligible retired nurses, 
-increase in preceptor and charge nurse pay of $5 per hour over standard wages, 
-an increase for float pool nurses adding more registered nurses and nurse practitioners in the emergency departments, and 
-continuing to increase nurse education infrastructure in emergency departments.
Mount Sinai nurses are back to work with safe staffing ratios for all inpatient units "with firm enforcement so that there will always be enough nurses at the bedside to provide safe patient care, not just on paper." It is also nice that the new staffing ratios will be implemented immediately.  
At Montefiore nurses received new safe staffing ratios in the Emergency Department, with new staffing language and financial penalties for failing to comply with safe staffing levels in all units. 
I love that nurses stood their ground for safe staffing.  California has had mandatory safe staffing ratios for years and the nurses love it.  For years, nurses have been fighting for federal legislation for safe staffing but have been unsuccessful.  This result in New York is a great start because change usually occurs on the coasts first.  I hope nurses elsewhere will stand their ground as safe staffing not only improves patient care but also decreases nurse burnout.