Top 10 Blogs of 2021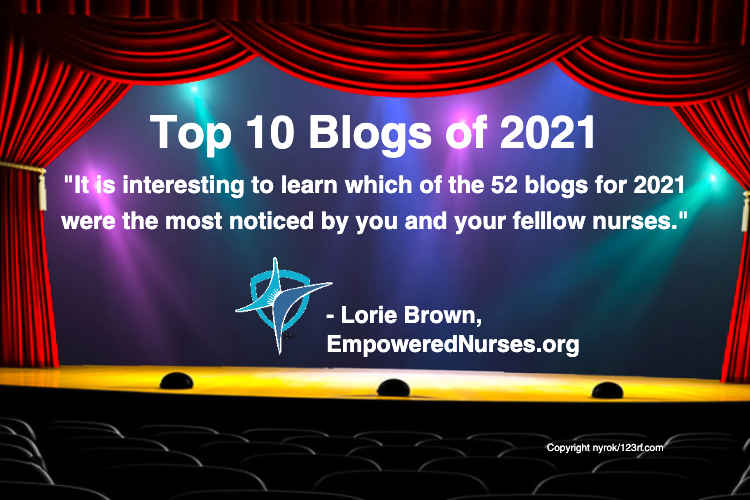 Each year at this special time, I get to write my favorite blog which is on The Top 10 Blogs of the year we just put behind us.  And 2021 was definitely one that we have been wanting to do away with for quite some time!
What I think is so interesting is what YOU are interested in.
NUMBER 10:  "WHAT HAPPENED TO 'NURSES DO NO HARM'?"
A nurse was charged with practicing medicine without a license after she asked a patient if he wanted to "let go" and, when he said yes, she unhooked his oxygen to allow him to peacefully die.  She removed the oxygen without a physician's order and now has criminal charges pending.
NUMBER 9:  "RADONDA VAUGHT'S DAY IN COURT"
This blog dealt with RaDonda Vaught who made a medical error resulting in the death of a patient which culminated in her being charged criminally in the matter.  This particular blog dealt with her hearing before the Nursing Board which resulted in revocation of her license.  Her upcoming criminal trial scheduled for this March 21, 2022.
NUMBER 8:  "CRIMINAL PROSECUTION HEALTH CARE PROVIDERS"
As in the Vaught matter noted in Number 9, we are seeing increasing numbers of nurses being charged criminally for mistakes made while doing their jobs.  These are incidences of medical malpractice which of late are also being charged criminally.  As we all know, everyone is presumed innocent until proven guilty in the criminal courts.  Nurses certainly are no different.
NUMBER 7:  "NURSING BOARDS DIRTY LITTLE SECRETS"
In the last few years leading up to 2021, we have been hearing more and more about how Nursing Boards are tending to be more aggressive in their disciplines and in their intimidation of nurses.  With the COVID pandemic and the facilities increasingly becoming more short-staffed, the Boards should avoid such harsh affliction that could further reduce the number of those wanting to stay in nursing.
NUMBER 6:  "BEWARE OF SIGN-ON BONUSES"
With staff-shortages during COVID, this blog discussed how hospitals are becoming so desperate in getting more qualified staff that they are offering huge bonuses to lure new employees while, at the same time, their existing staff are being overlooked for their loyalty and long-term hard work.
NUMBER 5:  "SHOULD I STAY, SHOULD I GO?"
This article discussed whether nurses should stay or go based on the now legally challenged vaccination mandates.  I always say that you can get another job but not another license.
NUMBER 4:  "NURSING LICENSING SCAM"
Surprisingly, many unsuspecting nurses fell prey to a fraud during the past year where persons posing as Federal agents sent letters to nurses demanding their immediate payment of a bond in order to keep their licenses from being suspended.  The letters, which looked quite official, however were a scam.  No Nursing Board asks for money up front.
NUMBER 3:  "PERSONAL SCRUBS vs. HOSPITAL SCRUBS"
Registered Nurse Cliff Wilming was fired from Alina hospital because he did not use personal scrubs during his medical work.  He was concerned that if he wore his own scrubs, he could possibly infect his family during the COVID pandemic.  Therefore, he chose to use the hospital's scrubs that were cleaned in the facility.  As the blog detailed, Wilming eventually got his job back.
NUMBER 2:  "NURSE REFUSES COVID VACCINE"
Houston Methodist Hospital's Jennifer Bridges, R.N., lost her job by refusing the COVID vaccine as had others from her facility.  She challenged her termination but lost her suit when it was dismissed by the court.  That mandate order since was stayed but not before Ms. Bridges found other employment with a private nursing company that had no vaccine mandate.
NUMBER 1:  "THE RADONDA VAUGHT MATTER"
Many nurse readers seemed to be very curious about the RaDonda Vaught matter.  As noted in Blog Number 9, the R.N. was charged criminally when she made a medical error resulting in the death of a patient.  The criminal charges are still pending, and she is scheduled for trial on March 21, 2022, in Tennessee.
The Board originally determined to take no action against her license but later reversed and did take disciplinary action against her.  After a hearing, the Tennessee Board voted unanimously to revoke her license and levy a $3,000 fine.
Ms. Vaught took responsibility for her actions and testified about the systems that failed at the hospital.  The Institute for Safe Medication Practices (ISMP) felt the decision was unjust and that the Board was biased because the patient in this matter died.
They commented about the inability to differentiate between human error and reckless behavior.  ISMP thought her behavior was human error and her license should not be revoked.  They felt that the Board failed to consider significant contribution of system failures.  ISMP felt that the Board's decision was not in alignment with just culture and the Board should have been more focused on rehabilitation rather than punishment.  The Board's job is to protect the public rather than the nurse and, therefore, chose to revoke Ms. Vaught's license.
Each year, I love reviewing the Top Ten Blogs and this past year was no different.  As you know, I write one every week of the year which you should be receiving every Friday morning.
It is interesting to learn which of the 52 blogs for 2021 were the most noticed by you and your fellow nurses.  The Vaught matter and COVID were, for sure, noticeably big topics for 2021.
I applaud you for what you do every day in caring for patients and doing your best during these difficult times.
What was your favorite blog in 2021?  Was it any of those above or perhaps a different one?  Let me know in the comments below.